WASHINGTON YOUTH TOUR
Once a year, local high school students are selected by Sumter EMC to represent our cooperative and state as delegates on the Washington Youth Tour. This top-notch leadership experience and tour of Washington, D.C., includes meetings with state and national leaders, leadership training, and visits to all the major sights. Participants join over 1,400 other students from around the nation—all expenses paid—for one incredible week in our nation's capital.
ELIGIBILITY 
The competition is open to all high school students who live in or attend a school in Marion, Schley, Sumter, Webster, Lee, Terrell, Chattahoochee or Stewart County. Students not living in or attending a school in the above counties are eligible if their parents are members of Sumter EMC and live within the cooperative's service area. The cooperative's service area is Marion, Schley, Sumter, Webster, Dougherty, Lee, Randolph, Terrell, Chattahoochee, and Stewart counties.
Be a sophomore or junior in good standing with your school.
The applicant must be 16 years of age by June 15, 2023.
Must have parent's consent.
If you want to apply for or learn more about the Washington Youth Tour, contact Tonya Jones at 229-924-8041, ext. 210.
2023 CONTEST SCHEDULE
Application deadline (Must be in the Sumter EMC office by 4:30 p.m.): Jan. 20
Interviews for highest scoring individuals: Tuesday, Feb. 21, from 11 a.m. -1 p.m.
Trip dates: June 15-22
2023 CONTEST RULES:
After studying the provided materials, you may write an essay (under 500 words) or submit a video (under 4 minutes) covering information about the history of rural electrification, Sumter EMC, and the U.S. government. The topic of your submission is: Is there one place in Washington, D.C., that you have always wanted to visit? Please explain "The one place you would like to visit most in Washington, D.C., and why you chose it. Also, we would like you to explain why we should choose you for this trip".
Submissions will be judged on the following basis:
   • Knowledge of material: 35 points
   • Composition and grammar: 15 points
   • Originality and Creativity: 40 points
   • Adhering to all of the instructions: 10 points
Submit your essay or video in hard copy or electronic format to Sumter EMC. Be sure to submit the WYT application. 
Essays may be dropped off or mailed to: 
   Sumter EMC 
   Attn: Youth Tour - Tonya Jones
   1120 Felder Street
   Americus, GA 31709
Entries may also be emailed to tonya.jones@sumteremc.com. 
Your essay or video submission is due by Jan. 20 at 4:30 p.m. at our headquarters in Americus. The highest-scoring students will be invited to participate in the interview process beginning at 11:00 a.m. on Feb. 21. Students must score at least an 80 to qualify. The interview will be judged on personality, knowledge of study packet information, communication ability, appearance and poise, leadership qualities, and goals. Please dress appropriately—as if you were going to a job interview. Students are free to go after their scheduled interview. Two students will be selected to win a trip to Washington, D.C., June 15-22. 
2023 STUDY GUIDE: 2023 Study Guide
WHAT TO SUBMIT:
Letters of Recommendation
Your essay or video submission
VIEW PHOTOS FROM THE 2022 YOUTH TOUR: 2022 Washington Youth Tour Photos
*All participants may be required to follow CDC and federal and local government regulations related to COVID-19. All participants must submit proof of a negative COVID-19 test taken 48 hours or less before departure.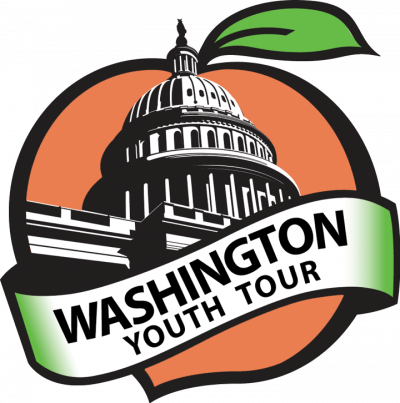 View "An Unforgettable Week" on YouTube.